Through my years of stonemasonry I've shown that I have both the knowledge and knowhow in the building of a variety of different types of stone, examples of which can be found throughout the Donegal Derry and North West area.
Walls 
A beautifully crafted stone wall can be an excellent way of framing a house or garden and will add to the beauty of any home or building.
Stone walls can work very well with other features we construct, such
as stone steps, natural stone paving, flower beds, rockeries, wishing wells, water features etc… Using features such as these in conjunction with each other can greatly enhance any business property, garden or housefront.
                                                                    We are always happy to listen to any ideas you may have and offer helpful advice.
---
Houses
Adding stone is an excellent way to make your home or property stand
out. There is a wide variety of local stone types to choose from which can be sourced from local quarries in the Donegal Derry area. We also build alternative stone types, not found in the local area, e.g. Liscanner, Limestone etc.
Adding a feature of natural beauty such as a stone wall or porch
to your home or property will give your property a new sense of charm.
---

 Interiors
The most popular interior work that we construct here at Inishowen Stonework is the fireplace which can provide a commanding centrepiece to any room.
However stonework can be included into any room in your home. Examples may include staircases, interior walls or hearths.
---
Stoneer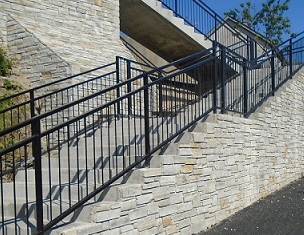 If you want a natural stone finish but your project, i.e., house, wall, fireplace etc., does not have the necessary space to build natural stone, Then don't worry, there is an alternative. Stoneer is natural stone cut at 30mm thick, with random lengths and heights. This product gives your project a totally natural finish and when fitted correctly will give the look of "full thickness" stone because stoneer is cut from 100% Natural Stone. Here at Inishowen Stone Work we pride ourselves on having the necessary experience skill and knowhow in the use of this product, from the smallest of projects to large scale projects such as the public stairway shown here.
Stoneer is available in a range of stone finishes examples shown below.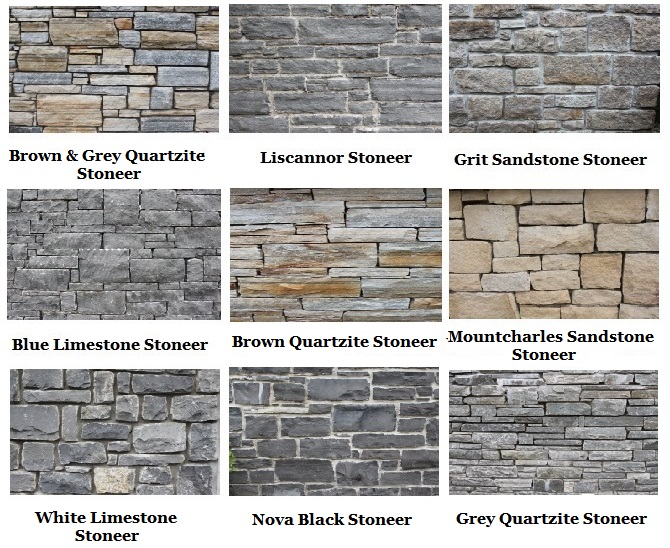 "Need a Stone Mason in Donegal, Derry or throughout the North West? Just visit Inishowen Stonework and give me a call!"
---